OCF Celebrates The First Ten Years
In October 2011, Ogbomoso Community Foundation celebrated its first decade of service to Ogbomoso. The five-day events opened on October 19th with a colorful and stately imageries of the various changes in Yoruba culture as exemplified by Ogbomoso. Chaired by Chief (Mrs.) Adewusi and masterfully presented by Prof ROM Kalilu at Ladoke Akintola University of Technology, the "Pageant of Yoruba Cultural Fluxes" event was a dazzling opening to a celebration of 10-years of service.

The second day event featured a lecture by Prof Alex Gboyega on "Home Town Associations and Local Development". This even, sponsored by Daybis Ltd, was chaired by Prof Timothy Olagbemiro, the Vice-Chancellor of Bowen University, with Dr. David Oladipo as Master of Ceremony.Ogbomoso youths were featured prominently in the celebrations, including a Final Secondary Schools' Debate among the top five secondary schools debating societies in Ogbomoso.

Another highlight of the celebration was the Cultural Presentation at Ogbomoso Recreation Club. It featured Body Linguistic Dance Ewi by Chief Lere Paimo, Ashanti (Ghana) cultural display, Ewi-Ojo Oluwatanna, Playlet-Ghana Troup, Ijala Ere Ode and Juju & Sekere.

The festivities were capped with a Merit Awards and Gala Night at the Ogbomoso Recreation Club. All major political personalities were present, including former Oyo State Governor, Otunba Christopher Alao-Akala, Hon. Mulikat Akand-Adeola, Senator Ayoade Adeseun, Otunba Funso Lawal and many others.
Among the honorees were:

10th Anniverssary Honourees
| | | |
| --- | --- | --- |
| Chief Sunday Adewusi | Alhaji Abdul-Ganiyu Lawal | Mr. Olusola Luther-King |
| Hon. Christopher Agboola Ajao | Chief L.A. Gbadamosi | Prince Abidoye Ayoola |
| Air Cdre J. Olayiwola Atanda (rtd) | Chief Samuel Akingbelu Magbagbeola | Prince Iyiola Olabisi, JP |
| Mr. Emmanuel Olayiwola Adeyemi | Major-Gen Oladayo Popoola (rtd) | Deaconess Victoria Alabi |
| Prince Oyerinde Dokun (post-humous) | Chief Edmund Oluwemimo Gesinde (post-humous) | Dr. George Green (post-humous) |
---
Welcome Address delivered by
Asiwaju Chief Sunday Adewusi Leader, Ogbomoso Community Foundation
On the Launching of the Website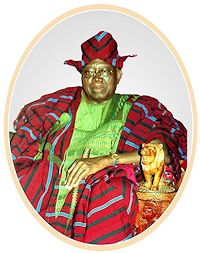 It is my joy, honour and a rare privilege to welcome you to the website of the Ogbomoso Community Foundation (OCF). I have no doubt in my mind that you will find this site pertinent and will love to visit it from time to time as it is dynamic, all embracing, friendly and inviting. You will not only be informed and educated on the foundation and her activities but will as well be treated and equipped with valuable and useful resource both retrospective and current on our dear fatherland.

Whatever tribe and tongue you belong and wherever you are, please always remember that love, peace and concord are basic and indispensable ingredients that are germane to the development of man and society. I have in many forums and from time to time kept on preaching the need for peace in Ogbomosoland and I will therefore seize this medium to call on you, our sons and daughters both at home and the diaspora and all our friends visiting this site to recognise and embrace this vital key to success wherever you are.

It is only in atmosphere of peaceful co-existence that growth and development will exist and thrive. Confusion, hatred and turmoil arising from mis-understanding, distorted information or lack of it is harmful, unhelpful and disastrous to the noble goal of development. Useful information that is devoid of negative coloration will go a long way in kick-starting the society to growth and development and sustaining it as well. Information is an important data if value in the decision making process and this is why Ogbomoso Community Foundation (OCF) is hosting and maintaining this website. The foundation will strive at all times to make it detailed, current and relevant.

You are therefore always welcome to this site.
---
OCF Mission
Ogbomoso Community Foundation (OCF) is a voluntary, free and democratic association of Ogbomoso indigenes and society with the mission to pursue "the continued and sustainable growth, development, progress and prosperity of Ogbomosoland, ensuring the welfare of its sons and daughters (citizens) at home and in diasporas through non discrimination and cooperation in a climate full of understanding, unity, peace and concord
Trustees and Executive Committee
The OCF Trustees are distinguished members of Ogbomoso Community and Nigeria. The current Chair of the Board of Trustees is Asiwaju Sunday Adewusi, while Chair of the Executive Committee is Gen (rtd) Oladayo Popoola.
About Ogbomosoland
A brief history of Ogbomoso shows that the town was founded by Ogunlola about 1891. Ogunlola was of Ibariba descent. He came to the area now known as Ogbomoso in pursuit of his hunting profession. He stayed under ajagbon tree (still by the side of the palace) and used the branches for hanging gears. The whole place was at this time (around the middle of the seventeenth century), a dense jungle. He Ogunlola was an expert archer and brave hunter. Later he and his wife, Esuu, built their hut by the side of the ajagbon tree.
The traditional ruler of Ogbomoso is the Soun. The Soun Dynasty dates back to the time of Ogunlola. The reputation of Soun Ogunlola grew tremendously and his authority over his contemporaries was recognized after his return from Oyo. His sons, Lakale, Kekere Esuo, Eiye and Jogioro assumed nobility and started to mark themselves out from the rest of the populace. However, it was Jogioro, a famous, strong and brave man who sought and brought respectability to the leadership of the Soun family, and it was not a surprise that through one of his sons, KUMOYEDE, the Soun dynasty had become firmly established in Ogbomosoland.
Breaking News
News, People, and Events